All the help in one place
Integrated Social and Health Care Services for patients with COPD – Milton Keynes Council, United Kingdom
Common Platform Services for Ageing Well in Europe
Mr. Sydney Nightingale is 81 years old and lives with his wife (who is considerably younger). Mr. Nightingale enjoys walking, spending time in his garden and cooking. He walks to the local Newsagent to collect a newspaper on a daily basis. He is independent in all activities of daily living. Mr Nightingale has Chronic Obstructive Pulmonary Disease (COPD), Hypertension, and Mild Heart Failure. His COPD was diagnosed approximately 10 years ago. He visits his GP Surgery for general assessment as required.
His wife likes to visit her mother on a regular basis and stay overnight as she lives out of the area. The concern about his condition has increased the stress and anxiety levels for the both of them. Mrs N was concerned that whilst away her husband would become ill, inform no one and be admitted to hospital. He was worried about the stress this was causing his wife.
Mr. Nightingale's condition is not uncommon but he is concerned that his health may deteriorate that he will become a nuisance to everyone, be more dependent on his wife for care, or have to rely on assistance for his care from the Community Services and Health and Social Care. He had several unplanned hospital admissions recently relating to exacerbation of COPD. His condition had deteriorated to the extent that he developed bilateral pneumonia and was seriously ill necessitating a hospital stay of three weeks.
In the course of the three year pilot project CommonWell, co-funded by the EU, the Milton Keynes Council developed, implemented and currently trials an ICT-supported, integrated social and health care service aimed at their COPD patient population. Mr. Nightingale agreed and consented to be part of the CommonWell Project, a telehealth monitor and community alarm were then installed.
The Milton Keynes initiative's intervention
Unsynchronised care service delivery, confined to the separated "silos" of social and health care, is the norm rather than an exception in care provision across Europe and beyond. This leads to inefficiencies, duplication of resources, and potentially to reduced levels of quality of care, and in extreme cases to premature death. Older people are particularly affected by this situation, since they often need both types of services, such as support with daily living activities and chronic disease management. There are 15.4 million people with a long term condition in England and this number is expected to rise. The Milton Keynes Council recognized that there is a need to move away from "one size fits all" approach of reactive care which is often delivered in a hospital set up to a patient centered, responsive, adaptable flexible service.
Milton Keynes Council Community Alarm Service is a 24/7 operation with links to other out of hours services but Telehealth is only a Monday – Friday service. If a patient takes their readings outside of office hours these readings will not be looked at or actioned until the next working day. This potentially means that a hospital admission may be necessary. Patients who have long term conditions such as COPD may also benefit from other Telecare equipment such as fall detectors or environmental sensors to enable them to remain independent and able to live at home. Before CommonWell, because the patient information is kept on two separate systems there was no comprehensive co-ordination or assessment of need as this is managed by two separate teams.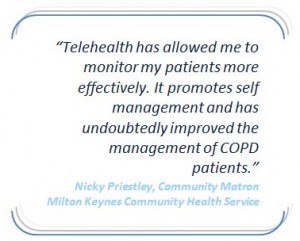 For CommonWell, the Community Alarm/Telecare Service carried out the installation of the equipment in the patient's home. Full instructions' regarding the use of this equipment was given by the Technician, together with a Patient Quick Reference Guide. Each day the patients measure their vital signs including heart rate, weight, blood pressure, oxygen saturation levels and temperature. Alert limits of the vital signs are set by their lead Clinician. The monitor also asks a series of clinical questions to further determine their current health condition. The readings are transmitted via a web application to the community matrons or district nurses for clinical triage and to the Alarm Centre for technical triage. The reading takes the patient approximately 5-6 minutes.
The benefits of the CommonWell pilot project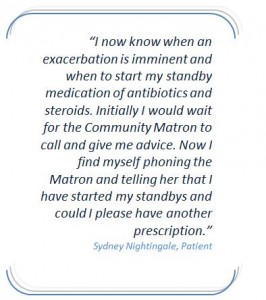 Increased quality of life of patients: Hospital admission avoidance, empowered and informed service users and patients, better support in critical situations and early intervention and prevention, support for families and carers of patients with Long term Conditions, reduction in anxiety for patients and carers as they feel more engaged with clinical staff, increase patients' understanding and knowledge of their condition – self management
Increased quality of service: Faster response to clients' requests, more targeted response to clients' requests, complete data accessed on one system instead of two, and data available to clinicians via web based application.
Increased efficiency of service: Decreased number of face to face visits to clients for health and social care staff, increased efficiency of data exchange, reduced hospital admission costs, opportunities for early discharge from hospital, reduction in call outs to GPs and urgent care facilities, enable staff to prioritise visits, reducing travelling costs and carbon emissions.
To ensure these aims, the pilot is accompanied by a rigorous evaluation scheme. The evaluation
encompasses impacts on the patient (health-related quality of life, disease-specific outcomes and hospital admissions, perception of the service and its benefits, satisfaction with the devices used and others), impacts on service staff (impacts on job/role performance, workload, job satisfaction) and impacts on the service provider organisation (appropriate targeting of responses to particular events, development and change management and service utilisation).
At this stage of the pilot it can already be said that patients are overall satisfied with the service and perceive it as a useful support to their own efforts of managing their condition. Patients reported that they are now more aware of their condition and symptoms which has enhanced the self-management of the condition and also their understanding. The Community matrons work very closely with the Respiratory Team at the hospital and this team is able to access information from ICP Triage Manager regarding patients prior to or during their attendance at an outpatient's appointment. Staff members have expressed enthusiastic feedback as the information is extremely valuable as it gives them an overview of what has been happening over a period of time rather than just assessing the patients as they appear on the day of their appointment.
ICT-Supported Integrate Care across Europe – the CommonWell Project
The pilot trial carried out by the Milton Keynes Council is part of the project CommonWell that develops, implements and pilots integrated services at four sites in Europe: the autonomous region of Andalusia in Spain, and the cities of Bielefeld in Germany, Milton Keynes in the UK and Veldhoven in the Netherlands. The project is co-funded by the European Commission within the CIP ICT Policy Support Programme (Grant agreement no. 225005). 10 partners are cooperating in the project, developing services to support chronic disease management and independent living of older people in general.
Andalusia and Bielefeld are the sites focusing on improving services for independent living for older people. In Andalusia, CommonWell provides users with a high quality service by integrating the information from both emergency and social care services into one common platform. The CommonWell approach in Bielefeld is being applied to a major gap in service provision for older people at German care provider Johanneswerk. It relates to a necessary improvement in the effectiveness of co-operation between social care and healthcare providers on admissions to hospital, and subsequent discharge.
Milton Keynes and Veldhoven are the pilot locations that address chronic disease management for older people suffering from Chronic Obstructive Pulmonary Disease (in Milton Keynes), and Chronic Heart Failure (in Veldhoven, see above). The CommonWell services here improve communication between health and social care providers, helping to reduce anxiety and improve health outcomes for people with chronic conditions and those who need support when leaving hospital.
The integrated services are currently being piloted at the four sites for a duration of 12 months. The results of evaluating the pilot operation will be used to extend service provision and promote the wider uptake of this model of care across Europe. The pilots are evaluated to gain a better understanding of the new services' added value, user benefits and acceptance, quality of life impacts and economic viability. The evaluation takes into account the nature of the services to be implemented as well as the diverse national care systems, the regulatory and legal conditions, and the local circumstances under which services are to be delivered. The evaluation encompasses the different stakeholder groups involved: end users; informal carers; formal health and social care staff and the provider organisations. A multi-dimensional and multi-method approach has been adopted which can be flexibly applied across sites.
For further information
To learn more about CommonWell, please visit www.commonwell.eu
(July 2011)